Build a Better Workforce Through Diversity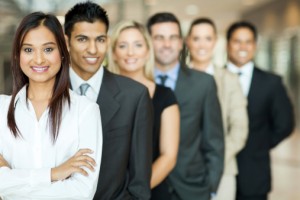 By Laurie Bradley
In January, Intel announced it will invest $300 million to increase diversity in its organization. The news has revived a decades-old discussion about the need for greater representation of women, African-Americans, Hispanics, and other under-represented populations in the workplace.
But diversity is not just a buzzword or a mandate to be checked off a to-do list. For forward thinking organizations, it's a business imperative that brings rich rewards.
A troubling trend in the software workforce
Apple, Google, and several other big technology companies have faced mounting criticism for a lack of diverse employees. In fact, the typical workforce in the software sector is 70% men and largely white and Asian — only 2 to 7% identify as African-American.
To combat this troubling trend, many diversity mandates have been placed on U.S. workplaces. Legal measures such as the Equal Employment Opportunity Act — which enforces laws against discrimination in the workplace based on an individual's race, color, ethnicity, gender, age, national origin, or disability — are intended to diversify work environments in all industries. In some cases, meeting certain diversity mandates is required for contracts with federal, state, and local government entities, as well as many private organizations.
Benefits beyond: Diversity is good for business!
But diversity isn't just about compliance with external mandates. Diversity now means cultivating an inclusive environment through behavior and company culture. Organizations that have a truly diverse workforce see extended benefits far beyond the next contract. A diverse workforce strengthens your business and ensures a strong future by offering the following advantages:
Better understanding of customers
Better purchasing ability
Better ability to innovate
Better recruiting success
Better employee engagement and retention
These advantages don't just arise from speculation; They are directly supported by the results of numerous studies. Research conducted by McKinsey & Company shows a direct correlation between the diversity of employees and financial performance. The study found that companies in the U.K. with 10% higher gender, ethnic, and racial diversity on their management teams had earnings before interest and tax (EBIT) that were 5.6% higher. Organizational diversity studies conducted by sociologist Cedric Herring and published in the American Sociological Review, found similar advantages in diverse workplace populations. The study's results indicate that diversity is linked to higher revenues and profits.
But in the software sector, finding a diverse group of employees with the engineering, technical, and STEM skills needed for successful employment with a high-tech organization is particularly challenging. Why? In recent years, there have been overall fewer STEM graduates, and significantly fewer women and minority STEM students.
How a well-connected recruiter can help
Creating a diverse workplace in the software sector can be a daunting challenge, but success in doing so can bring endless benefits to any organization. A well-connected recruiter can make the process easier by finding a diverse array of qualified applicants.
Rather than casting a wide net and hoping to catch the right applicants, a recruiter will use a well-established network of known contacts to target potential employees who can contribute to your organization. These direct connections with top talent mean not only a more diverse pool of applicants — but diverse applicants with the skills you need.
Creating a diverse workforce in today's hiring market is challenging, but that doesn't remove the imperative — expanding the perspective of your workforce is essential for reaching a wider customer base and ensuring growth and sustainable future for your business.
Have comments, ideas, or questions? Share them with ASG Renaissance! Contact Laurie Bradley by email or at 800-238-0890.